Blepharitis/MGD patients: What do you clean your eyelids with? (12/2018)
Updated a year ago
Dates
November 28 - December 4, 2018
Participants
369
Results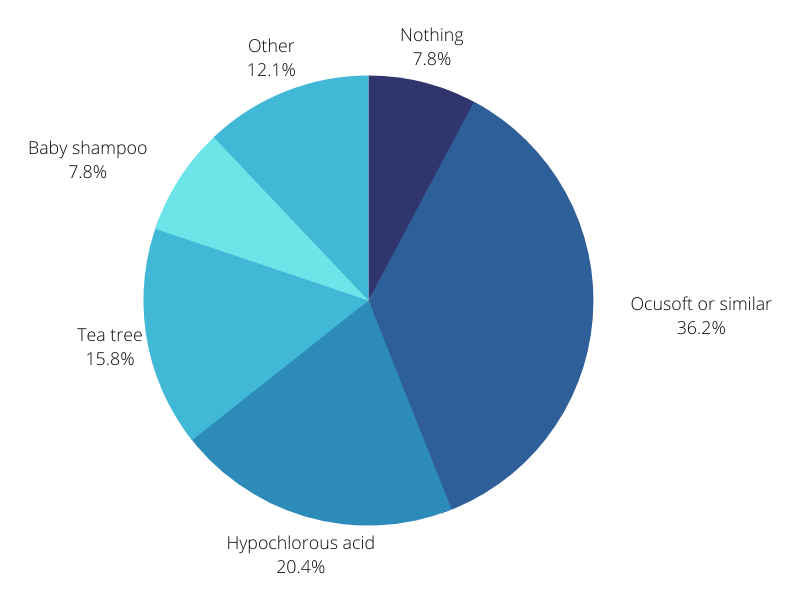 Comments
Of the 106 participants who selected "Other", here is what they shared:
BOILED WATER, q tip
SYSTANE BALANCE OR RESTASIS
Soap
Saline
sulfate-free liquid soap
Honey
ICU Soft cleansing pads
tea tree soap
Oxy pads with 2% Salicylic acid.
Almay Gentle Eye Makeup Remover Pads
Dr. Fischer's wipes for babies; no preservatives; hypoallergenic
Natrasan First Aid Spray
Mousse Foam "Zocular"distributed by Okra Ltd. Texas better than We Love Eyes
Chamomile tea
Acuicyn liquid spray
Cetaphil
Clean & Clear foaming facial cleanser for sensitive ski
Tea tree oil glycerin bar soap
Stridex pads
retaine mgd
I also use a little bi carb mixed with sterilised water and sometimes just salt water.
Masters Miracle pure soap/shampoo
Use cold cream or Sephora eye make up remover and always Algenist foam facial wash.
Aveeno Sensitive Skin Face Wash
Azasite
Other interesting findings
Lots of people said that they use multiple products.
Some people said they could not afford their preferred type.
Several people explained the history of how they became allergic to one product after another. 
---
Want to use our survey data?
You are welcome to use our surveys freely so long as you attribute them to THE DRY EYE SHOP and provide a link to this page.
Was this article helpful?