Dry Eye and Eye Makeup (6/2023)
Updated 6 months ago
Dates: May 18 to June 8, 2023
Participants: 70
---
1. Dry eye disease status
Participants of this survey mostly have moderate to severe dry eye: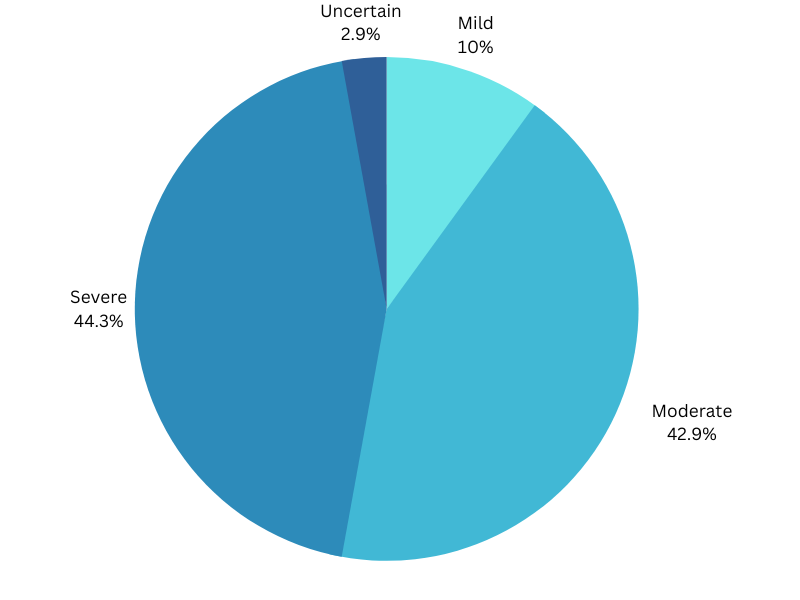 ---
2. Do you wear eye makeup?
In a word, YES, at least some of the time.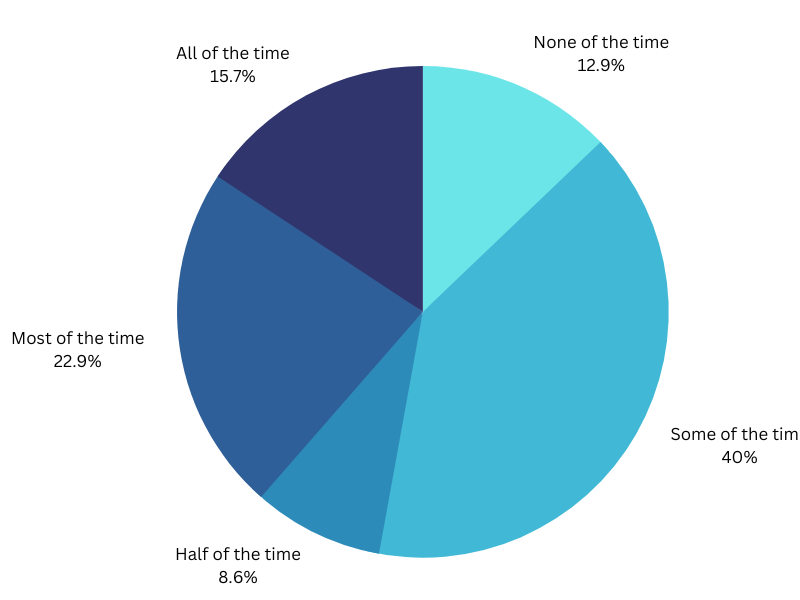 ---
3. What type(s) of eye makeup do you wear?
Out of 70 participants, here's who wears what: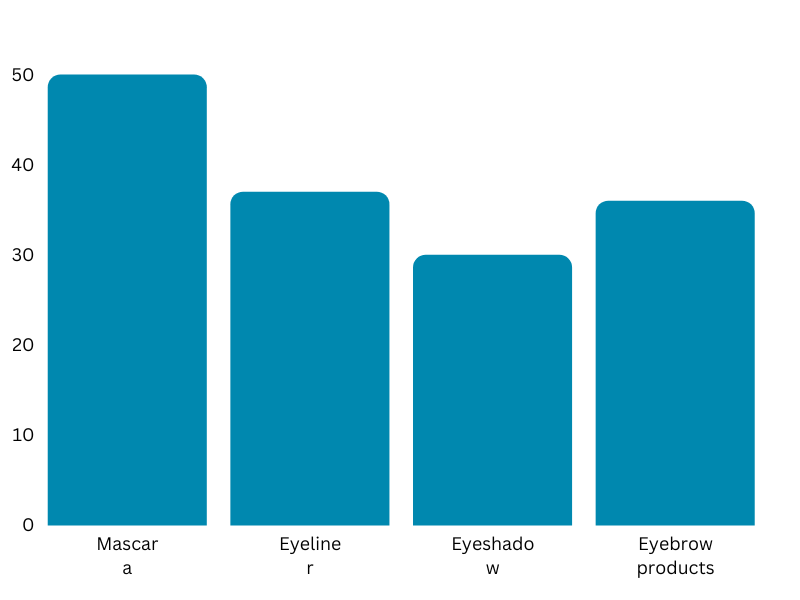 ---
4. Favorite eye makeup brands
There did not appear to be enough of a pattern to summarize the responses, so they are included in full:
None
none
Mac
Elf
cream eye shadow stick waterproof mascara
Renova eyeshadow (excellent!), Ilia mascara, Lili Lolo eyeliner
Bobbi Brown, Neutrogena, Thrive
Maybelline shadow and mascara don't irritate, L'Oreal Infallible mechanical eyeliner in black, blue or gray are nice (but green irritates, as does any eye makeup I try that's green), Oil of Olay Complete moisturizer SPF 30 for sensitive skin is great for under-eye moisturizer.
Lancôme or Clinique waterproof.
THRIVE, Clinique
Before I started wearing scleral lens, I used waterproof mascara, as I found it didn't get into my eyes when they started tearing. After I got scleral lens, I was warned to use only water soluble mascara, which was awful - I constantly got stuff in my eyes and have since stopped wearing any mascara at all. If anyone can recommend a brand that doesn't cause problems, I'd like to hear about it. You didn't mention in your list above under eye concealer, which I do use. It was quite a challenge to find a product that didn't get into my eyes and cause blurriness. There are no websites out there that I could find that recommended what brands of makeup or eye creams work best with contact lens, much less sclerals. The under eye concealer that I found worked best is Clinique's "beyond perfecting super concealer." Before applying, I wash my hands thoroughly and apply carefully so as not to get it too close to my eyes. I found that most eye creams and eye makeup don't specifically state they are safe for contact lens. However, Mary Kay's "Age Minimize 3D Eye Cream" states on the box that it's safe for contact lens wearers, and I used it for quite a while before discovering ZENMED's "Omega Ceramide+" eye cream. Although the company doesn't specifically state it's safe for contact lens, I haven't had any problems with it. I don't wear eye shadow except on special occasions, using Clinique products and absolutely no glitter. I also use Benefit's "24-hour Brow Setter," a clear gel, to shape my eyebrows, but do not wear eye pencil.
Almay
Cover girl
Guide Beauty! They make adaptive makeup and it doesn't irritate my eyes, in addition to being easier to apply due to their tools. I use a second Guide Beauty eyeliner wand to apply my nighttime ointment too!
Dr. Haushka, Clinique
I do not have one, in the past Avon has been my favorite but I have not had one I liked in years.
Eyes are the story mascara
None not even eye brow
Blinc mascara
Mascara: ILIA Limitless. Eyeliner: Sephora retractable waterproof eyeliner pencil and Bobbi Brown longwear gel eyeliner. Eyebrow: Anastasia.
Merit
Maybelline Lash Sensational Full Fan Effect Waterproof
Mac Creme eyeshadow, Julep Creme eyeshadow,Thrive Causemetics eyeliner and brow fix, Primetics or Lancome mascara
clinique eyeliner, clinique concealer, bobbi brown cream shadow
Avon - maybelline - Rimmel
Mascara: L'Oreal waterproof Bambi Eyes; Eyeliner: NYX Professional Makeup That's The Point waterproof (?) liquid eyeliner
Estée Lauder Multi-tasking Eyebrow Pencil
L'Oreal, Cover Girl mascara, Bobbi Brown eyeshadow stick, Anastasia Eyebrow
Maybelline waterproof eyeliner
LuneAster, Nars
Clinique High Impact Mascara (waterproof)
Eyes Are The Story Mascara
Mabeline mascara water proof
Tarte tubing mascara
Ilia eyeliner, Merit mascara
i mix and match
Maybelline Mascara, Revlon eyeliner,
I am unable to use any eye makeup.
Almay mascara, neutragena liner
Maybelline - Ultra Liner Maybelline The Falsies Volumn
Revlon Colorstay
Mascara is Lancôme Definicils. Brush is easy to use and the formula doesn't clump on the wand. Eyeliner is Chanel Stylo Les Yeux - lasts all day Eyebrow gel: Charlotte Tulbury Legendary Brows
Merle Norman
The only mascara I can even barely tolerate is Blink.
Eyes are the story
bobbi brown, cover girl
Clinique, tarte l, eyes are the story
Maybelline
Maybelline waterproof
Mary Kay
MAC
Eyes, Thrive Causemetics; Foundation & Lipstick, Clinique; Pressed Powder, Revlon
Twenty/Twenty Beauty has several products that I have tried. The line is designed by an Opthalmologist with eye safety in mind. The website includes a list of 60 ingredients she won't use in the products due to issues those ingredients can cause people with sensitive eyes. I like the mascara and have also tried the Eye Shadow Stick. I found that the eye shadow stick was a little "runny" and didn't stay in place on my eyes. It did not irritate my eyes though. Here's a link to the website: https://trytwentytwenty.com/pages/about. I also have eye brow products I am trying to get the hang of. I have not had an issue with anything I've tried on my brows. i.e. those products don't irritate my eyes.
Blink Mascara, Trying Thrive now, sephoria eye shadow, brow benefit and Trish McAvoy
Eyes are the story mascara and maybelline eyeliner
Pacifica and Mineral Fusion
Alamay, clinic.&este Lauder
Lancôme, Kylie Jenner
Mary Kay and Thrive
I can't wear any eye makeup.
EYES ARE THE.STORY; PHYSICIAN'S FORMULA
Thrive mascara, MAC eyeliner and Eyelove eyeshadow (Sephora Brand)
---
5. Favorite eye makeup remover brands
Again, not enough of a pattern to summarize this information, so responses are included exactly as provided:
Lancome
Cerave face wash, Vaseline
neurtogena
Andrea Eye Q eye makeup remover pads
Bobbi Brown, Lancome
Neutrogena remover sheets
Almay
Blephasol
Purpose gentle facial cleanser
Using eye makeup remover with cotton balls or pads irritates the skin around my eyes, so I don't use it. Instead, I wash my face with ZENMED's facial cleansing gel, and gently rub it around my eyes (with eyes closed) to remove under eye concealer, rinse thoroughly and pat dry. ZENMED also makes a facial cleansing cream, but I found it doesn't work as well to remove makeup.
Q tips and warm water
Dove Clear Moisturizing soap
I use micellar water
Clinique Naturally Gentle Eye makeup remover
Avon is my favorite, but also use another that I forgot what it is called.
Neutrogena make up remover
Earth Science
Remover made by EyeLove
Ocusoft wipes
Zocular
Stanhexidine 4% with 4% isopropyl alcohol
Lancome Bi-facile - the only one I use.
Klorane cornflower
Garnier micellar water and Nivea 3 in 1 scrub wash
Neutrogena Makeup Remover (1/2 water; 1/2 oil)
Almay eye makeup remover pads
L'Oreal unscented make-up remover cloths
Garnier micellar eye makeup remover
Soap
Almay Longwear & Waterproof Eye Makeup Remover Pads
Eyes Are The Story
none-doesn't apply
Hot water
Cereve face wash
Tea Tree oil foaming cleanser
N/A
none
OTC product
Vaseline, soap and water
I am unable to use any eye makeup.
I don't use a separate makeup remover product
Neutrogena
Almay oil free remover
I use jojoba oil. I use a few drops for each eye and one end of the cotton swab per eye. With my eye closed, I position the Q-tip under my upper eye lashes and swab vigorously. Then with eye still closed, I use my finger and gently rub oil around the overall eyelid. Next I follow with a warm wash cloth and remove the remaining makeup. I wash my hands thoroughly before I begin.
Merle Norman
Either baby oil or plain water.
N/a
Avon liquid hydrating eye makeup remover
Micellar water, microfiber washable makeup remover pads
Members mark from Sam's
Cetaphil face wash
Mary Kay cleanser
Tea tree oil
Maybelline Expert Eyes 100% Oil Free
Johnson's Baby Oil
I need help here. I have used Clinique and Neutrogena eye make up remover since they are supposed to be gentle but my eyes still feel irritated afterward.
Clinique - but usually just use water with a makeup eraser cloth - Blink it tubular and come off when splashing water - need to splash about 10 time but no chemicals needed
Equate
Warm compress and tea tree eye pad
Clingue
Water
Jojoba oil
Mary Kay
I can't use any.
EYES ARE THE STORY REFRESHING EYE TOWELETTES
Systane pads
---
Comments
I wore eye makeup every day for almost 50 years, from high school and while working. I wore contacts for the first 40+ years until I scratched my cornea for the third time and decided to stop the contacts, wear glasses, but continue with eye make up. I retired six years ago and haven't worn eye makeup since. My eyes are healthier than they've ever been. They are still dry, but nowhere near the degree they were in all the years of wearing eye makeup, and my tear production is up.
I started feeling better as soon as I stopped using Retanol. Also, stopped all products with phenoxyethanol.
Sorry, can't think of anything. I look forward to seeing results of survey as I'm always interested in which products others with dry eye like.
Always gently apply products, dabbing moisturizer lightly. Clean thoroughly before bed.
I'd love to know brands people recommend especially spf
I look forward to seeing what other brands your customers recommend.
Have pretty much stopped use of all makeup as it causes more issues which I really don't need with my eyes
Dry eye prevents me from wearing makeup most days. I would LOVE to be able to change that!
I can only wear makeup for short periods of time unless I put in my Lacriserts. If I don't, my eyes burn and are very uncomfortable. Clinique products seem to be the best but still cause some discomfort.
I rarely wear eye makeup and often suffer for at least a day after removing it.
Important to use a mascara that is NOT waterproof and that doesn't flake. Eyeliner should be waterproof.
I can wear eye makeup very infrequently as it irritates my lashes and margins and makes it very uncomfortable.
I wear sclerals and sometime the eyeshadow sticks on my tear line, causing blurriness occasionally.
The cornflower in Klorane has anti-inflammatory properties. I also use it in place of eyelid wipes as it is gentle and soothing, still need to rinse off.
Can you wear false lashes
My doctor told me to put in my scleral lenses first and then put on my eye makeup. I use waterproof so it stays on when I have to remove my lenses to clean them and then reinsert them.
I am afraid to try mascara due to PROSE lens wear. I wear eyebrow pencil since most of my eyebrows were lost during SJS.
I wear sclerals and have very dry eye. I found that powdered eyeshadows caused problems and have gone to a stick cream eyeshadow which is much better. I avoid powders on my face.
I am curious to know what kind of eye makeup remover other people use, if there's a more gentle, less irritating brand
I would like to wear eye makeup daily, but my eyes water so much, it's impossible. Or, I end up rubbing them. I would like to know if anyone does successfully wear eye makeup with dry eyes, and if so, which brand(s).
I can get away with mascara 1-2x per week but anytime I try eyeliner, my eyes really don't like it. I'm especially interested in any non-irritating eyeliner recommendations!
I think it's asking for trouble when people try to wear false lashes, or extensions, with sclerals.
Im sorry to say that no make up product I have tried has worked from expensive to cheap
Yes, I started wearing mascara again after stopping for a long time because of my DEd. But then I got a stye on my upper eyelid! It went away on its own, but I've learned my lesson. I will now only wear mascara on special occasions. I also use a new mascara wand every time I apply my mascara. You can buy them on Amazon. They are very cheap. I throw out the old container of mascara every three months and buy a new one. Mascara containers are prone to bacteria.
I quit wearing eye makeup because it always made my eyes feel worse., especially mascara, maybe because of the wind-tunnel effect with lengthening eyelashes.
Eye makeup does seem to effect my dry eyes
I always use a eye lid cleansing pad after I've removed my eye make-up and washed my face with a gentle cleanser (including my eye lids). I find it soothes my eyes and the pad solution that does not rise off is a gentle moisturizer.
I've tried so many mascaras that I've lost count. I would absolutely love to find one (and maybe even a liner or shadow) that I can tolerate.
I only wear it on very special occassions. The rubbing/wiping off the makeup hurts and irritates mly eyes.
Is there a correlation?
Struggled with dry eyes enough and styes to not want to try wearing mascara
Wearing eye make-up only when out and about (about 1/2 time) is tolerable and gives the eyes time to rest when in their natural state.
I think the eye makeup industry is missing an opportunity with a lot of women who have dry or sensitive eyes. A few basic products that work and don't irritate eyes would be wonderful. Twenty/Twenty Beauty is the only company who appears to be trying to do that, from what I've found.
Still looking for something I can tolerate. Only wear eye makeup on very special occasions
I replace and clean eye makeup all the time
Use tube mascara which does not flake. L'Oréal has a good one with primer on one side and mascara on another.
I wish I could wear mascara.
Using mascara carefully and replacing often is critical. Eyes are the Story a miracle mascara for me. Love their towelettes also for comfort without makeup. Brand is excellent but too expensive, so more options would be great.
I never use the same eyeliner or eyeshadow brush twice without first washing in hot water and Dawn soap (soap they use on ducks). I replace mascara every month. I never ever wear makeup to bed.
Was this article helpful?